The Signal
January 31, 2009
By JON GAMBRELL, AP
Man charged in '88 Alamo beating appears in court
Christopher gets hearing in Santa Clarita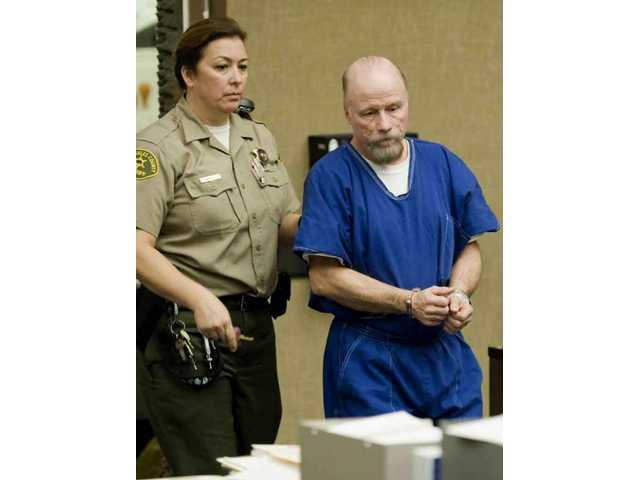 Douglas Christopher, 55, appears in Los Angeles County Superior Court, Santa Clarita, Calif. for a preliminary hearing, Friday, Jan. 30, 2009. Douglas turned himself in on a 20-year warrant alleging child abuse stemming from the Tony Alamo Christian Ministries.
LITTLE ROCK, Ark. (AP) – A man who took part in the 1988 beating of a young boy at a Tony Alamo Christian Ministries compound in the Santa Clarita Valley near Los Angeles returned to court in Santa Clarita Friday, more than two decades after the attack.
Douglas Christopher, 55, told a court commissioner he would hire his own lawyer for the proceedings, said Jane Robison, a spokeswoman for the Los Angeles County district attorney's Office. Robison said two others involved in the beating – including the boy's mother – still face outstanding warrants stemming from the attack that preceded the jailed evangelist's conviction on federal tax fraud charges.
In 1991, Jeremiah Justin Miller told a California courtroom that Alamo ordered followers to beat him 140 times with a wooden paddle. Alamo, who gave the orders for the 1988 beating over a speakerphone, told followers that the boy was "a goat among the sheep and he was going to have to beat the devil out of me," Miller said.
Miller said he bled after the attack and remained bandaged for more than a week. He said the evangelist ordered the beating after he asked a science question during a history class and, without permission, wore a metal-studded leather scarf Alamo had designed.
Miller's case, which saw no action since 1995, sprang back to life when Christopher walked into the Santa Clarita courthouse last week and turned himself in. Christopher faces two felony child abuse charges over the attack and remains held in jail, Robison said.
Christopher's next court date is set for Feb. 17, when a judge will set a preliminary hearing. That hearing will allow a judge to look over the evidence against Christopher and decide whether it merits moving forward with a trial, Robison said.
How much evidence prosecutors and police have remains in question. Miller, now in his 30s, hasn't surfaced publicly in since the early '90s, a former family lawyer has said. Prosecutors also compiled the case file on Christopher in the days before widespread computer use, Robison said.
"This is such an old case and we were having trouble trying to locate the entire file," she said. "We're still trying to find the complete file."
Terry Farr, another follower named in the attack, re-emerged in 2007 and the charges against him were dismissed, Robison said. Arrest warrants remain outstanding for follower Marc Landgarten and mother Carol Miller on felony child abuse charges, she said.
Christopher turned himself in as Alamo, 74, faces a 10-count federal indictment accusing him of taking young girls across state lines for sex. Since a Sept. 20 raid on Alamo's compound in Fouke, child welfare officials with the Arkansas Department of Human Services have seized 36 children associated with the evangelist's ministries over allegations of physical and sexual abuse.
Christopher surrendered at the urging of an Arkansas government agency, said Steve Whitmore, a Los Angeles County sheriff's office. Julie Munsell, a spokeswoman for the Arkansas Department of Human Services, said her agency encouraged Christopher to resolve the criminal case. She has declined to comment further.
Meanwhile, an Arkansas judge held custody hearings Friday about three children associated with the ministries. Sebastian County Circuit Judge Marion Mark Hewett issued a gag order barring all parties from speaking publicly about the case, Munsell said. She said the order prevented her from saying whether the children remained in state custody Friday afternoon.